Croatia Beaches
There must be a reason why Game of Thrones, a phenomenon TV show, has chosen Croatia as one of it's filming locations. This beautiful diverse country has all the medieval charm that other temperate, European destinations like Spain have to offer, but the real appeal is the country's remarkable beaches: long coastlines, hidden coves, and islands surrounded by the Adriatic sea. But, how can You choose which of the strikingly beautiful beaches and crystal clear waters to visit? We have done that work in your stead, and gathered all the best beaches that Croatia has to offer.
Punta Rata, Brela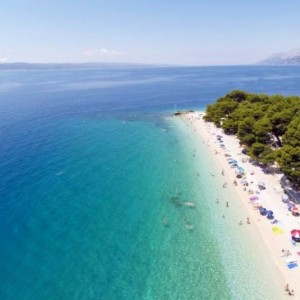 It is one of the most beautiful gravel beaches in the world. It is located in a protected area, a cape covered in a verdant pine forest. In July 2004, the Forbes magazine (USA) listed this beach amongst 10 most beautiful beaches of the world. Among the most famous ones, like the Copacabana, Costa del Sol, St. Tropez, and the exocit beaches in Antigua, Belize and the Maldives, there is also something beautiful that Croatia has to offer, for a good reason.
The Huffington Post, in 2014, has described Brela as the dream destination and a perfect reason to get on a plane to Croatia as quickly as You can. According to a website in Belgium, "European Best Destinations" – Punta Rata belongs to top beautiful beaches in 2015. This beach is a winner of many prizes in Croatia, as well.
On the Western side of the beach you can find the Brela Stone – a true symbol of Brela, the most commonly used motive from postcards of Brela and Croatia. The rock is covered in verdant pines proudly protruding as they present all their beauty and force, power and spite to grow from stone.
Brela are a jewel of Makarska Riviera, and they are located just 7 km away from Promajna, and 15 km from Makarska.
Brela have masterfully combined the original natural beauty and the human care for nature preservation. The success was achieved through vision, persistance and skills of the local folk.
Zlatni Rat, Brač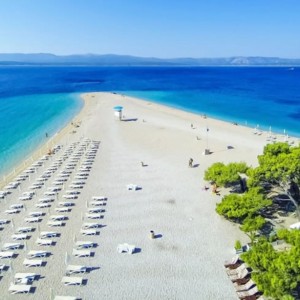 This spit of land is often referred to as the Golden Cape. Basically, it forms one large beach, with a lush verdant pine grove in the middle. Inside these, you can discover the remains of a Roman rustic villa, which will make for a nice, shady excursion.
Regularly referred to as one of the most attractive beaches in the world, Zlatni Rat forms a memorable V shape and extends into the Adriatic Sea's Hvar Channel. Nude sunbathing is tolerated, so it will be a great option for those looking to get a taste of the real European style of beaching—or those who tend to dislike tanlines. How do you get there? Look for a scenic ferry ride, which departs from many oft-frequented cities, like Split and Makarska, which is located just 5km from Promajna. While the island could sound remote, you can actually rent beach beds and umbrellas, and also there are low-key eateries and showers nearby. If besides this you needed more reasons to go, there are a variety of fun water sports offered, which include kayaking, jet skiing, wind surfing and more.
Nugal beach, Makarska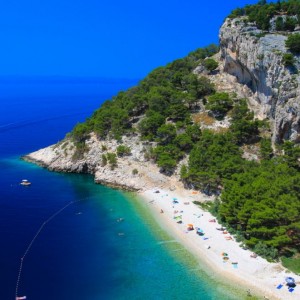 The Nugal is one of the most scenic pearls of the Makarska riviera and is a very popular destination for swimming with tourists of all nationalities. Although it is not officially declared as 100 percent nudist, it has traditionally been dominated by nudists during all parts of the season. It is located on an isolated and completely wild area, so you can reach it only by foot from the direction of Makarska, or by boat.
Ikovac – Baška voda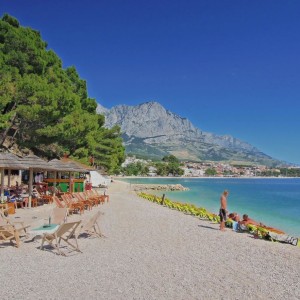 This part of Baška Voda is very popular. It's an area which borders the beautiful pebbly beaches of Brela Berulia on the western side, and goes all the way to the center of Baška voda on the east. For a number of years already, here you can find one of the first and the most iconic beach bars of the Makarska Riviera, Južnjačka Utjeha (Southern Comfort), whose delicious summer music selection relaxes both the swimmers and tourists, both during the day and during the hot Adriatic nights.