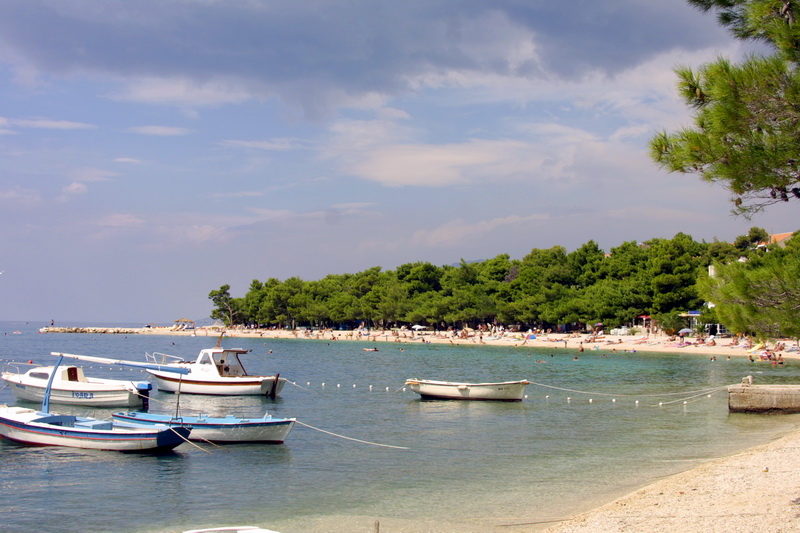 All about Promajna
Apartments Promajna Croatia
Promajna have beautiful pebble beach, which is lined with pine trees . The beach slopes gently into the sea making it particularly suitable for families with small children. Near the beach can be refreshed at several beach bars, restaurants and fast food stalls. Fishing evenings are held during the celebrations of Thanksgiving 5.8. They also run other casual entertainment. Croatia accommodation Promajna wider range of apartments near Makarska. Accommodation Croatia Promajna apartments are gradually expanding. Now tourists have available Croatia Promajna apartments last minute several hotels and a good selection of private accommodation. Promajna is the perfect place for a quiet vacation, Croatia Promajna last minute accommodation especially suitable for families with small children because of the beautiful beach, around which the village lies . About 1 km northwest of the town center is located the Children's Village (Institute of thalassotherapy for children, ie treating sea water) . Previously, mainly fishing , now a small tourist place Promajna is located at the foot of Biokovo, 4 km south of Baska Voda. It was named after the source of life – the sun ( promaljanje – dawn of the Sun) , first recorded in 1674 .
In the last ten years has been built many private homes that offers quality rooms and apartments Promajna last minute , the place has a high quality hotel accommodation .
Neat place has all basic fillings needed tourists ( post office, shops, tourist agencies , money exchange ) , and the local restaurants offer gastronomske Dalmatian specialties and international cuisine. At the beginning of XXI century Promajna receives several awards as one of  the best locations on the Adriatic – " Blue Flowers " .
Promajna , crystal-clear and warm sea, well preserve the natural enviroment and showplace geographic position , into the heart of a member of the Dalmatian also a member of the Adriatic coast , making Promajna ideal tourist destination. It is easily accessible prose is located directly under the main Adriatic route , making it perfect for a summer vacation. It is only about twelve kilometers from Makarska .
The long sandy beach is one of the reasons why there has been the development of tourism . Now there is a large number Promajna accommodation last minute, as in hotels , as well as in private apartments in Croatia Promajna . It is the perfect place for a quiet holiday and for its beautiful beaches and tranquil environment is especially suitable for parents with small children. Long walks on clean marine air are especially beneficial for people with respiratory problems . For those who prefer a more dynamic summer vacation, Croatia Promajna apartments offers a wealth of leisure and entertainment facilities , particularly with regard to water sports , but other sports like football, tennis , hiking , fishing and many more. As for the other equipment in Promajna , there are cafes, restaurants and a post office , that is all you need to do so that you can enjoy your vacation without undue stress.
Croatia Promajna accommodation last minute friendly and helpful staff travel agencies and accommodation facilities in Promajna , as well as delicious cuisine and local specialties in the restaurants , clean sea and beautiful long beaches are good reasons to visit this charming resort on your next vacation. We can advise you of your stay choosing one of the many Croatia accommodation Promajna .
A former fishing village, today it is nice and attractive resort. Proof of this is the recognition given by the Croatian National Tourist Board Promajna was declared the most organized tourist destination (in its category ) on the Adriatic coast in the 2005th year, and won " Blue Flower " – the most prestigious award for tourism .